Munich -
Explore This Fascinating City in Germany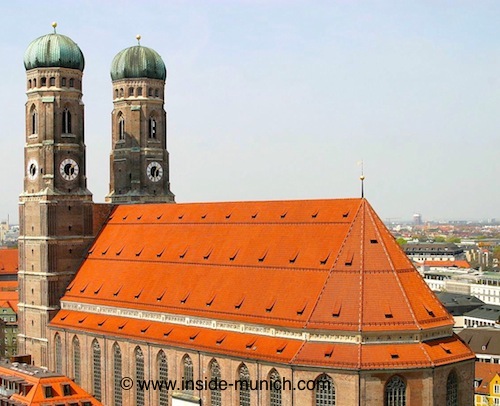 Munich, the capital of Bavaria is one of the most attractive cities in Germany. We don't say this, because we live here, people from all over Germany acknowledge this fact :-).
Most Bavarians and especially citizens of Munich (in German: München) are very proud of the capital. So are we! We have been living in Munich for more than 15 years now and we understand why so many tourists visit us.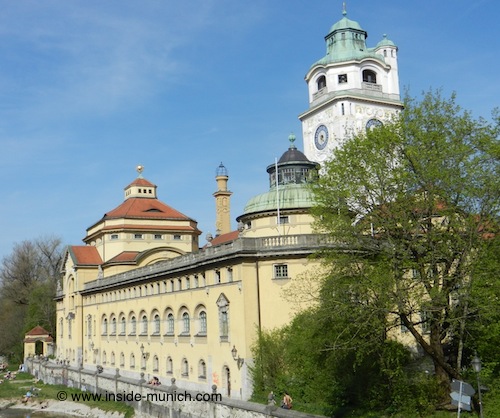 Come with us on a journey to discover Muenchen. You'll find everything from stunning attractions, world-class museums, delicious Bavarian food, to throbbing nightlife. And don't forget to visit some of the wonderful restaurants or the famous beer gardens. We tell you about our favorite ones even at the risk of finding them overcrowded, when we want to go there.
When you get enough from sightseeing, what about some really great shopping?
I know the best boutiques for extravagant shoes, reduced designer clothes, sun glasses, hand bags, souvenirs, etc. I even tell you where your man can drink a beer, while we women are enjoying our shopping expedition.
Munich is a great place for buying luxury goods at the Maximilianstrasse, but you can also find wonderful little boutiques with unique, yet moderately priced clothing.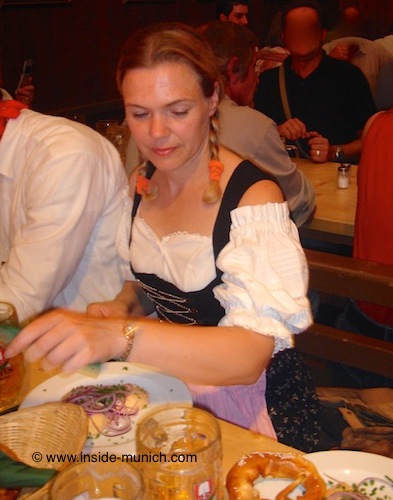 One thing that is closely tied with Munich is the famous Oktoberfest. Since I went there the first time many years ago, I've become "addicted" to the Oktoberfest and its special atmosphere. Contrary to what you read on the news, it's much more than the infamous "beer drinking celebration".
In fact, it's a festival with roller scooters, merry-go-round, cotton candy and roasted almonds. A place to gather and have fun with your friends and family, yes even with small kids. You wouldn't imagine the amount of prams or strollers you can see on a sunny weekday at the Wiesn. (We say "Wiesn" when we mean Oktoberfest).
I have even written a guidebook about the Oktoberfest with all the information you will need to have the best time of your life at the festival.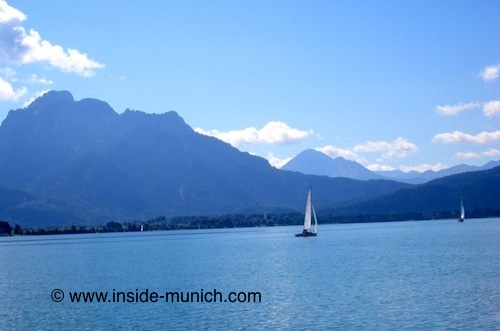 Munich is favored by its geographical location in the South of Germany. Within an hour drive you can find beautiful lakes like Starnberger See, Chiemsee, and Ammersee. The lakes are surrounded by a stunning landscape with mountains, that are the foothills of the Alps. And the most famous castle in the world, Neuschwanstein, is just a day trip away.
Great places to hike, swim, sail, canoe in summer or ski, coast, ice skate, and cross-country ski in winter. Munich prouds herself to offer a wider range of sports than any other city.
Did you know that the best surfers in Bavaria practice in the Eisbach (Ice River) in the English garden? Good for you that "the wave" is directly at a bridge. Just perfect for visitors to stand there and admire the surfers.
Austria, Italy and Switzerland can be easily reached, just in case you get bored in Munich ("Monaco di Baviera" as the Italians call our beautiful city) and want to visit some of our European neighbors. In the north of Munich lies the Bayrischer Wald (Bavarian Forest), a still secluded region with wonderful landscapes, ideal for families who want to relax and keep their kids away from all the hazzle of a big city.
We'd like to show you around: Find out everything about Munich and how to spend your vacation here like a real "Münchner" (person from Munich). Take your time to discover which part of Munich and its lovely surroundings you like most, plan your vacation carefully and we guarantee you'll have an experience here that you'll never forget.
Have a great time!
Marion
War Girl Ursula