Important Tourist Attractions in Munich
Munich offers many attractions to her visitors. I'm sure there's something to see and discover for every person. Apart from the most important sights, that everyone visits, there are so many more things to explore in Munich, that you won't be able to do it all in one vacation.
Click on each of the links below to find out more.
Marienplatz, undoubtedly the most visited square in Munich
The Marienplatz lies in the heart of picturesque Old Downtown Munich and has several attractions like the townhouse and the famous Glockenspiel (carillon).
Marienplatz is always full of people, it's one of the busiest places in town.
Königsplatz, a square resembling ancient Greece in the middle of Munich
The Königsplatz in Munich is one of my favorite attractions in Munich. The sheer magnitude of the place this amazing, not to speak of the Greek architecture of Glyptothek and National Collections of Antiques.
Nymphenburg palace was the summer residence of the Bavarian Kings and Dukes.
The palace is embedded in a wonderful garden park. Come here to relax and visit the several attractions like Pagodenburg, Amalienburg, Botanical Garden, etc.
BMW World is a must see for German automobile lovers.
The new complex was inaugurated in Ocotber 2007 and consists of three parts: the BMW Welt, museum and plant.
It is located across the street of the BMW headquarter in Munich near Olympiapark.



Allianz Arena - Europe's Most Modern Football Stadium
This futuristic looking stadium is the home of two German Soccer League teams: the famous FC Bayern Munich and the TSV 1860 . It has been inaugurated in 2005, one year before the FIFA world cup took place in Germany.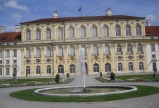 Oberschleissheim Castle
The little town Oberschleissheim in the North of Munich is best known for its three castles and the Flugwerft Schleissheim, a part of the Deutsches Museum.
A trip is easily made by S-Bahn or car within 30 minutes.
Sea Life Aquarium
The Sea Life center in Munich exhibits local water worlds from Isar and Danube river, as well as colorful Mediterranean and tropical fish. The variety of sea horses is definitely the highlight of the exhibition.
Bavaria with the Hall of Fame at Theresienwiese
The Bavaria and Ruhmeshalle are located on the Theresienwiese in Munich. Come here to have a splendid view over the city and admire the busts of famous personalities from Bavaria.
Karlsplatz (Stachus) - Entrance to the Old Town
Stachus is the entrance to München's pedestrian zone and a great meeting point. In summer the square is refreshed by the water fountains and in winter you can skate on a small ice rink.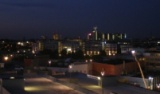 Enjoy Star Nights at the Munich Observatory
The Bayerische Volkssternwarte is located near Ostbahnhof in the middle of Munich.