Famous German Food
Not only is Munich known for its famous German food, but the city, being in the well known state of Bavaria, also specializes in some of the most mouth watering and delicious southern German delicacies you've ever tasted.
With so many common options on any Bavarian restaurant's menu, it is hard to know what to choose and which entrée is what. Here are just a few of my all time favorite traditional German foods that I know you will enjoy just as much as I do.
Brezel (or Breze)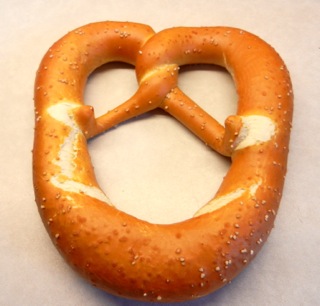 Nothing is a more authentic south German food than a delicious, fresh-from-the-oven soft pretzel. Known as a Breze here in Munich, this doughy, salt-topped treat has been a staple in Bavarian cuisine for hundreds of years.
Munich kids literally grow up on pretzels. Our son had his first one with 7 months and has been a Brezel-addict ever since!
The pretzels here are much softer than in other parts of the world. The dough has been dipped in a lye solution before baking to keep the consistency light and fluffy, rather than brittle. Enjoy a pretzel from a bakery as an afternoon snack or at the local beer garden, paired perfectly with a German beer. It is by far my all time favorite Bavarian food!
If you think, plain Breze is too bland, try a "Butterbrezel", which is a buttered pretzel. Yummy!!!!
Kässpätzle
If you like cheesy, gooey pastas, then you have to try a dish of Kässpätzle while in Munich. One of the heartiest and most-loved southern German food dishes, Kässpätzle is a staple at most restaurants in the area.
Spätzle is made from soft dough that's been dropped into boiling water to cook. Not quite noodle, not quite dumpling, this concoction has a texture and flavor all of its own.
The Spätzle is baked in a dish with cream, eggs, onions, spices and topped with cheese. The result is a mouth-watering dish that is rich, creamy and universally loved.
Eat it alone or with a green salad on the side. You'll definitely love this famous German food.
Leberkäse
Now this is a very popular Bavarian classic, which might not suit all palates, but is at least worth a try. Don't let the translated word throw you off (Liver cheese), this delicious baked meet is similar to bologna sausage and can be found in just about every German food store or deli.
Various meats, such as pork, bacon, and beef, as well as onions and spices, are ground into a fine mixture and then baked in a loaf pan until the meat produces a crunchy brown crust.
The Leberkäse usually is sliced and served up on a bun or with a pretzel, and is often enjoyed with honey mustard (süßer Senf) and potato salad. Personally I prefer the normal mustard, but for the original recipe you must use the honey mustard.
Schweinebraten
This authentic Bavarian slow roasted pork loin is succulent, rich and always juicy. Broth and dark beer are added to the pan to enrich the flavor of the meat.
It is often served with red cabbage or sauerkraut and Knödel, a kind of German dumpling. You can order this plate at just about any Bavarian restaurant in Munich and expect a great meal.
Knödel
Very unique to southern Germany, the Knödel is a side dish served all over Munich and Bavaria. They are large, round boiled potato or bread dumplings, seasoning with various meats and vegetables.
To me, they share similar flavors as the stuffing served at Christmas. They go great with roasted meats and stews, and can even be found in homemade Bavarian soups.
The usual restaurant serves two Knödel as a side to other famous German food like Schweinebraten, but real Knödel-lovers such as my husband will eat at least 5 or 6 of them.
Bratwurst
Of course, if you visit Munich, or any other Germany city, you are going to find a plethora of Bratwurst choices. Every kind of eatery, from fancy restaurants to street carts, serves up this traditional German food.
Bratwurst can be made from pork, turkey, veal or beef (most popular in Munich). These delicious sausages are probably the most famous German food. They are usually served with a small bun and often topped with spicy mustard. Sounds good, doesn't it?!
Read about the perfect German Beer to accompany your favorite Bavarian dish