Cross Country Skiing Event
Tour de Ski - Munich
Cross country skiing in Munich?
Does this sound strange to you?
It isn't. On New Year's Eve 2006 for the first time ever, a cross-country skiing world cup will take place in the Olympic stadium in Munich.
The world's best cross country skier will meet here to win not only the event in Munich, but to prove themselves the "most complete Cross-Country skier" by winning the complete series Tour de Ski.
This spectacular and unique event is part of the FIS world cup cross-country skiing and consists of 8 top competitions on 10 days in 3 countries. The race is considered by the top athletes as the most important competition after the cross-country world championships.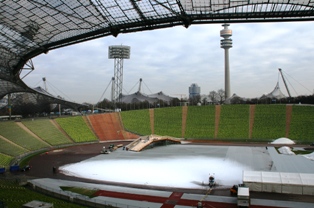 All top athletes like Marit Björgen, Claudia Künzel, Lina Andersson, Evi Sachenbacher-Stehle, Tobias Angerer, Rene Sommerfeldt, Katerina Neumannova, Tor Arne Hetland, Cristian Zorzi and double Olympic Champion Kristina Smigun will participate.
You can buy tickets at Muenchenticket. After the sprint championships of the world class athletes, a cross country race for children from 7 to 14 years will be held. Registration is possible at www.sc-hochvogel.de or www.olympiapark-muenchen.de.