Viktualienmarkt Munich
The Viktualienmarkt is Munich's oldest food market. It has been at Marienplatz since the beginnings of the city and was then moved to its current location in 1807, because it became too big.
Here you can buy fresh fruits, veggies, cheese, sausages, and any other delicatessen you can think of.
Fresh Produce and Delikatessen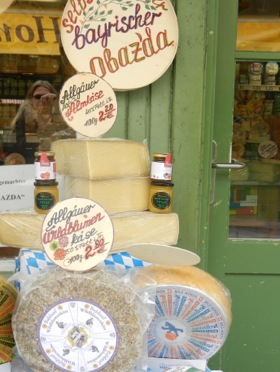 Apart from the famous Dallmayr Delikatessen (the one with the spectacular coffee) at Marienplatz, this is the place to go for any fresh or exotic food.
If you like going food shopping you'll love the Viktualienmarket. It's open air and hosts more than 140 different stalls, each of them specializing in a different food.
There's probably nothing you can't get: wine, cheese, honey, exotic fruits, bread, sausages, flowers, meat, arts and crafts... there even are two stalls with fresh fish. Probably the only places in Munich where you can get really fresh saltwater fish (remember we are a few hundred kilometers from the next ocean).
Just to warn you, Viktualienmarket is not cheap: the things you can buy here are of best quality and often rare and this has a price.
It's definitely not my place to go for everyday shopping. But we always come here when we want to prepare a special meal or have guests.
Beer Garden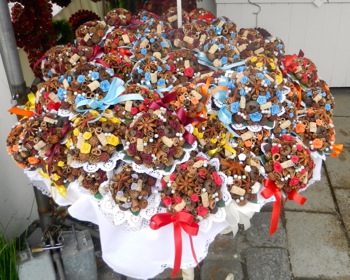 Apart from the market, there's one more reason to visit the Viktualienmarkt: prominently in the middle of the place is a beer garden.
It may not be the nicest and most romantic of Munich's beer gardens (if you want to see my favorites, read on here.
But it's right here where you need it after some strenuous shopping or sightseeing. The perfect place to sit down and relax with a cold beer or Radler in the middle of Munich.
Take a Tour
Several companies offer tasting tours to the Viktualienmarket and I've already done it twice. It's a lot of fun!
You learn many interesting facts about the history of Munich and get to taste different kinds of local foods, like Obatzda (creamy cheese) or Weisswurst (white sausage). Though there are many companies, I recommend Viator, because they specialize in English speaking tours.
Return from Viktulienmarkt to more Shopping Possibilities
Click here for more Sightseeing