Ice Skating in Munich
Ice Skating in Munich at Olympia Park, Prinzregentenstadion, Stachus (Karlsplatz), Nymphenburg Palace and many more places!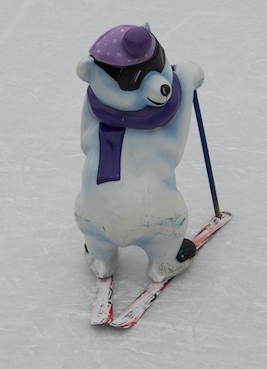 Ice skating is a classic Munich winter experience for both locals and tourists alike! As you can see even the bears around here have their try at skating :-)
Some rinks are indoors, others oudoors and we even have natural frozen water in ponds or canals.
Choose what you like best and ice skate during day or night, with music or without, with floodlights or disco lights, athletic or just for fun.
You need training classes, or kids activities? Maybe drinking Glühwein (hot wine) during the breaks is what you want. I'm sure you'll find the ice rink in Munich that best suits your needs.
The Rink at Olympiapark
(Olympic Ice Rink)
Olympiapark is the place to go, if you want to do some serious sports. It's indoors and open daily during winter time. With prior registration you can even participate in training classes for figure skating and learn some new elements.
The ice hockey club EHC München trains and plays here as well, therefore the hall might be closed to the public some evenings. But you can also come here to watch a game.
Instead of ice skating yourself, you could come here to watch a game as well.
Olympiapark Website
Prinzregentenstadion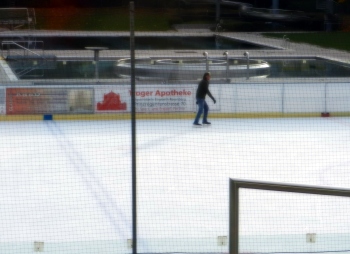 During summer, it's an open air swimming pool, in winter time it converts to an ice rink.
How about ice skating in Munich combined with a visit to the Sauna? Well yes, with the Eis und Heiss (cold and hot) ticket, you can first skate as much as you want and when you're done and freezing, jump into the Sauna to warm up again.
They offer party music, special events and flood lights at night for the skaters.
Prinzregentenstadion Website
Eis- und Funsportzentrum Ost
The skating center East is located near Michaelipark and can be reached easily with the Underground U5.
Want to speed skate? This is your place to go. Additionally to the "normal" ice rink, there's a 400m speed skating course.
I think this is a great idea, because all the speedy youngsters are on the outside track, while the slower normal people like you and me can coast along unhurriedly in the inside area.
Münchner Eiszauber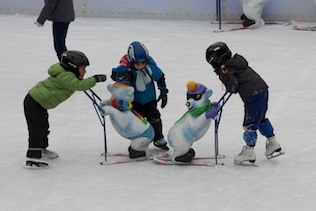 The Eiszauber (ice magic) rink at Karlsplatz Stachus is definitely the ice skating in Munich with the most glamour and fun.
During day, the focus is on kids fun. We humans share the ice with big snowbears on skis.
Even the smallest kid can start its career on ice with the help of the little bears. When holding onto these figures, it's much easier to keep your balance and glide along.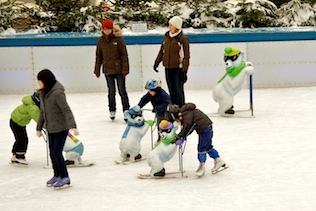 Parents who prefer not to skate themselves, can stand on the tribune, drink a hot wine and watch their kids have fun.
At night the Munich Eiszauber converts to a truly splendid party area with music, colorful light shows and lots and lots of people to see and be seen.
Just the place to go for a wonderful closing of a day of Christmas shopping on our Christmas markets. The scenery is breathtaking at day and night: located right in the heart of Munich with a splendid view to the Karlstor city gate and the palace of justice (Justizpalast).
Nymphenburger Schlosskanal
Ice skating at Nymphenburger Schlosskanal is an experience you will never forget!
Not many tourists know about this authentic Munich tradition: Ice skating on the frozen canal leading towards Nymphenburg castle. Enjoy the most spectacular sight you can have during ice skating in Munich.
Off course, this is only possible, when temperatures have been below the freezing point for at least a few days. The ice is natural, so be prepared bumpiness. There's no cleaning and preparations done, like on the artificial ice.
What we locals do is Bavarian curling (ice stock sports). This sports is said to have been inventend in Munich at least 500 years ago, when farmers and craftsmen would have some fun during the otherwise boring wintertime.
Nowadays you can find more than 40 prepared Bavarian curling courses along the 500m of Nymphenburger canal. Rental of all needed equipment is possible. In the last years even food stalls have sprung up alongside the canal to cater for your needs with the ubiquitous Glühwein and Bavarian foods like sausages.
Combine your ice skating or curling with a visit to Nymphenburg Palace and I can guarantee this will be your most spectacular ice skating experience ever!
One word of warning though: do not walk on the ice, if you see cracks or spots of water! Even though the canal is very shallow and you probably won't drown, it's definitely not a nice experience to break into the ice.
Return from Ice Skating in Munich to Homepage