Christmas Markets Munich
The 5 biggest Christmas Markets in Munich: all the information you need to find and enjoy them. All of them usually open on the Friday before the first Advent (that is the first Sunday in December) and close on the 23rd of December.
If you have time for only one of them, the Christkindlmarket at Marienplatz is a must-go.
But if you're here for a longer time, I urge you to visit at least the 5 biggest one featured below. Each of them has a slightly different angle and I'm sure you'll soon find out the one you like most.
Christkindlmarket Marienplatz
This is definitely the biggest one, the Christmas Market everyone in Munich and all the tourists will visit at least once. For me, it's too crowded, but see for yourself.
It's open from Monday to Saturday from 10.00 a.m. to 8.30 p.m. and Sundays from 10.00 a.m. to 7.30 p.m. On this German Weihnachtsmarkt you will find musical performances every day at 5.30 p.m. and Santa Claus shows up in the afternoon, which is a spectacle for kids and adults alike.
Christmas Village at the Residence
The Christmas Village is a very special place to go. It's in the courtyard of the Residenz, which gives it a very serene and royal appearance.
It's open every day from 11.00 a.m. to 10 p.m.. Many artisans demonstrate their work and for culinary offers you can get special foods like in addition to the usual things like Bratwurst, Glühwein and Crepes. There's also a fairy-tale world for the little guest with talking puppets.
Chinese Tower Weihnachtsmarkt
Located picturesque in the middle of the English Garden, this one is supposed to be the most romantic of the Christmas Markets Munich. But due to its location in the park it's also the coldest, with an icy breeze at times. Make sure to take some extra layer of warm clothing.
The Market is open from Monday to Friday from 12.00 p.m. to 8.30 p.m. and on the weekends from 11.00 a.m. to 8.30 p.m. You will find there besides the normal shops for German handcrafts and artisan work, a grandma's history hut. It is open in the afternoons and is crowdes with kid's attentively listening to the stories being read for them. You also have the chance to listen to the "Irmaninger" tower brass group in the evenings.
Mittelaltermarkt at Wittelsbacherplatz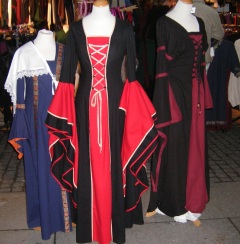 This is truly an unique and original Christkindlmarket: be ready to undertake a time travel to medieval Munich! On every weekend there is a medieval spectacle with enchanting performances and virtuoso ancients music. You can oberve jugglers, Bavarian hurdy-gurdy, bagpipes and much more with music of the 11th to 16th century.
Vendors are dressed in historical costumes, old-fashioned foods and drinks like Met (honey wine) are offered and you have to pay in "Gulden" (antique German currency). But don't be afraid, thvendors exchange Gulden into Euro 1:1 without any problems :-)
It's open every day from 11.00 a.m. to 8.00 p.m.
Christkindlmarket in Pasing
This is slightly of the beaten path near the S-Bahn station in Pasing. It opens only on weekends from 1 p.m. to 7.30 p.m. The church Maria-Schutz prominently offers the coulisse for this truly authentic Germany Christmas Market. There's an assorted music offer for kids and adults, with performances of several Munich choir. This is your chance to hear all the traditional German christmas songs in live performances.
And on one weekend you'll even have the chance to watch the search and rescue dogs "Johanniter Rettungshunde Staffel" giving a performance of their remarkable abilities.
I hope you will enjoy the different Christmas markets and try out some traditional German food, it's always a new and exiting experience.

Munich Christmas Markets auf einer größeren Karte anzeigen
Return from Christmas Markets Munich to Marienplatz Market