Munich Fireworks
Summer Night's Dream
Every year in July the best Munich fireworks are presented in the Olympic Park.
We took the pictures in 2009, but you can expect a similarly fantastic spectacle every year. In contrast to New Year's Eve, where everyone can do fireworks, the Summer Night's Dream is a professional choreography by the best firework artists in Europe.
The skies above the Olympic Park in Munich will show a dazzling spectacle of light, Munich Summer Night's Dream festival is definitely an amazing Fireworks Show of Superlatives you shouldn't miss.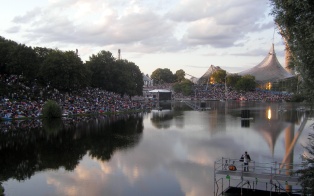 The biggest part of Olympiapark is closed for the event and you have to buy a ticket (around 14 Euro) to get inside, where all attractions are centered around the Olympic lake.
The event has become a huge public attraction and in each of the last years more than 60.000 visitors attended.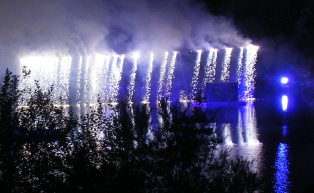 Apart from the fireworks, you can look forward to a varied music program on three stages positioned around the Olympic lake. The bands start playing at 18.30h until the big fireworks start. And off course, there will be lots of food and drinks to buy.
If you want to have a good view to the fireworks and also to one of the three music stages, you should come early.
And don't forget to bring some plastic to sit on, because the grass can be moist and cold. When we went the last time, it wasn't very warm, so I recommend to bring a warm sweater and/or jacket, because you will be sitting there a long time and after nightfall it tends to get chilly.
Get more information about dates and ticket here
Return from Munich Fireworks to Munich Events