Traditional German
Christmas Gifts
Top 5 Munich Christmas Market Buys
Still looking for authentic German Christmas Gifts? The best place to buy traditional as well as modern Christmas presents and souvenirs is at one of the Munich Christmas markets.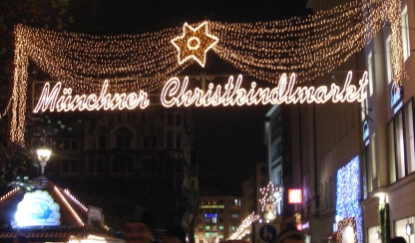 To locals and those in the know, Munich is equally known for its amazing Weihnachtsmärkte as it is for Oktoberfest. Christmas Markets, are found all over the city from late November until late December.
Also known sometimes as a Christkindlesmarkt, the prominent markets include those at Marienplatz, Sendlinger Tor, the Chinese Tower (Chinesischer Turm) in the English Gardens and Schwabinger Weihnachtsmarkt, as well as the Tollwood festival.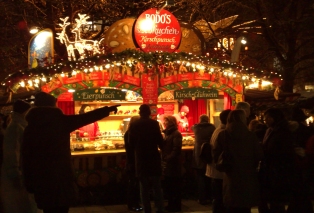 Take a stroll through any of these areas and smell delicious roasted nuts, freshly baked bread and sweets, and the aroma of piping hot Glühwein.
There are literally hundreds of booths to browse through. Stands feature ornaments, keepsakes, snow globes, winter clothing and furs. You name it, and a Munich Christmas Market probably has it.
But really, what are the best German Christmas gifts from the markets? What are some items that are unique to Germany and will be treasured keepsakes for years to come? Well look no futher, because here is my list of the top 5 buys at a Munich Weihnachtsmarkt.
Glockenspiel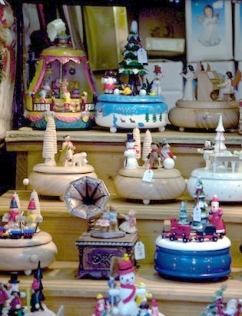 One of the most famous sites in Munich is the giant Glockenspiel (carillon) located atop the Rathaus in Marienplatz. Why not head home with a souvenir Glockenspiel musical box (Spieldose) of your very own?!
Many booths in the Christmas Markets sell unique, handmade glockenspiel featuring every winter theme and design. Glockenspiels are one of the most iconic items from Munich and are sure to be a keepsake in your family's Christmas collection.
Munich Christmas Mugs
Half the fun of strolling through the markets is stopping for a quick cup of hot cocoa or Glühwein (hot, mulled red wine). The stands that sell the hot drinks usually serve the drink in a commemorative mug. The cups are specifically designed for the Christmas market.
They feature a unique logo or emblem, the year, and something along the lines of "München Weihnachtsmarkt". The mugs are given out, with a two Euro deposit, so that customers will return the cup at the end of their drink. But you can also chose to keep your mug as a unique German Christmas gift and have a unique and practical souvenir. Off course, you can also buy new and clean ones, so you don't have to carry the sticky Glühwein mug with you :-)
Ornaments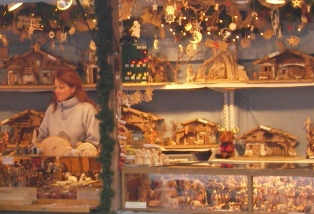 Whether they are carved out of soft wood, blown from delicate glass or intricately hand painted, ornaments from Munich's Christmas Markets are one of the most popular buys during the holiday season.
Glass balls (or Glaskugeln) are some of the most dazzling ornaments around. They are typically hand painted with various designs, and often feature traditional German Christmas sayings, highlight a bible scene, or possibly display the Munich skyline.
While many of the ornaments are locally made, prominent designers, like Käthe Wolfhart, can be found in some of the Christmas Markets around the city.
Gloves or Hats
Since the weather will most likely be freezing cold, you can count on there being plenty of stands that feature cold weather accessories such as gloves, mittens, hats and long wool socks.
Pick out a pair of wool-lined gloves to keep your hands warm as you stroll the market. Or, buy a locally made colorful knitted hat to stand out in the bundled up crowd. You'll be thankful you did, when it starts snowing.
Bavarian Wood Carvings - Nativity Scene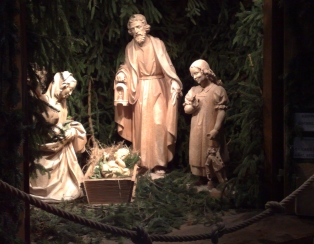 Some of the most intricate and unique woodcarvings in the world come from the state of Bavaria, where Munich is located. Christmas markets have become a well-known place to purchase these beautiful handicrafts.
A crib or nativity scene is the ultimate German Christmas gift. You can view a life-sized wooden nativity scene at Rindermarket, but you can also buy little wood carved figurines for your home.
Look for figurines dressed up in traditional Bavarian outfits, carvings of religious and nature themes, and even detailed wooden clocks.
No matter what you decide to buy, enjoy your day at any of the Munich Christmas Markets and have fun getting into the authentic German Christmas spirit!
Order Original German Christmas Treats
Are you hungry yet? My hubby is an avid lover of Lebkuchen and in the last years, he has perfected his baking skills.
Fortunately, you can buy original Nuremberg Elisen Lebkuchen and Christmas cookies from Schmidt Lebkuchen at Amazon.com and don't have to try and bake them yourself.
Buy one for yourself, and another one as the perfect Holiday gift. They come in decorative tin chests, filled with delicious ginger bread, and you'll have a lasting memory, long after you've devoured all of the delicacies inside.

Click one of the images below for more information
Schmidt Nuremberg Festive Chest
Schmidt Nuremberg Lebkuchen Pur
Return from German Christmas Gifts to Munich Christmas Markets.