Ghost Walking Tour
Experience the Atrocities of the Dark Ages
Looking for the dark side of Munich? The ghost walking tour will send shivers down your spine.
As you can imagine we usually don't take a walking tour in Munich :-) But this one is different, very different.
Your Guide Gravedigger Josef
The two hour Ghost walking tour features a guide and several actors, who play scenes from the medieval past of Munich. Spooky and terrifying scenes I may add. It is not for the faint of heart
We met at 8 pm at Sendlinger Tor. The tour has to be at night, because otherwise you won't see any haunted spirits, right? We had expected to be met by a nice and tidy tour guide, but no! No one less than Gravedigger Josef Grundlgruber personally (in his rugged and dirty attire) met to greet us.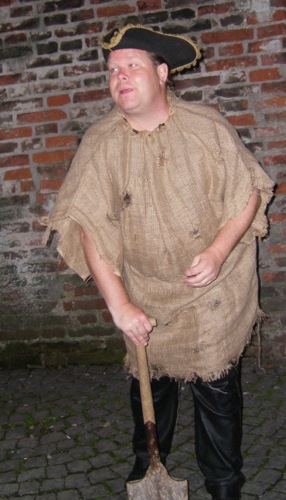 After we recovered from the first shock and found out that Josef looks quite scary but actually is a really nice guy who knows his way around in Munich (and has a shovel to protect us against evil beings), we decided to stay with him for the Munich tour.
I can tell you, that was only the first scary moment and there was a lot more to come.....
Our guide Josef led us through little known and narrow alleys where we could already feel the spooky atmosphere and hear the ghosts whispering behind us. Thank God, we were in a group of at least 10 persons and my husband was with me. (He will laugh if he reads this, but I held onto his hand just because it felt much safer...)
Cruel Methods Against the Black Death
We just had passed an old house when suddenly a window opened and a poor woman started screaming. She was completely healthy, but had been bricked inside with dozens of people dying from the Black Death. Nobody was to let her out because of fear she would spread this deadly disease.
She begged us to at least send some food and water inside with a bucket. What a shocking experience!
Ghosts on the Graveyard
Gravedigger Josef hurried us onwards to the next ghostly scene: The graveyard of the Frauenkirche cathedral. Why on earth did I agree to participate in this tour? Wouldn't I know better than to visit a graveyard at night?
Guess what happened next: two very bizarre persons appeared out of the nowhere and started arguing about what places on the cemetery are more comfortable living places than others.... thankfully they didn't seem to notice us and I was very relieved when we left that place and moved on to some better lit areas.
Our guide mentioned, that during medieval times there was no such thing as street lighting and the only light you had was the little lantern in your hand. Therefore people wouldn't go outside after dark if at all possible.
Tortured by the Iron Maiden
But the scariest place was yet to come: the Jungfernturm (Tower of the Iron Maiden). This was a very cruel torturing instrument: an iron woman statue with thorns inside. The poor victims were put inside and the door closed. This way they were pricked to death and it's said that you could hear their cries for days and even nowadays you can hear them at night during witching hour.
I was quite happy, when our tour ended and decided to stay in the brightly lit areas of modern Munich.
The ghost walking tour with theatrical scenes was a fantastic, yet scary experience.
Dress for the Occasion
If you really want to throw yourself in to the experience (and scare some spectators while you're there), make sure you dress for the occasion. Munich based company Horror-Shop have as many costumes, masks and accessories that you could think of that would be ideal for a ghost tour such as this. And you can re-use your costume for many other spooky celebration like the upcoming Halloween season.
How to Book the Munich Tour
If you speak at least a little bit of German you can take the same tour we did. It's probably the most scary one, because the actors really make the Mediaval Dark Ages come to life.
It's offered by Weisser Stadtvogel and you can book it here: Ghost Walking Tour Munich. I believe the guide can translate for you what he explains, but the theatrical scenes will only be in German.
Return to Guided Munich Tours