Exploring the Allianz Arena
Munich's world cup stadium Allianz Arena is the most modern football stadium in Europe. It has been inaugurated in 2005, one year before the FIFA world cup took place in Germany.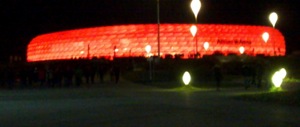 This futuristic looking stadium is the home of two German Soccer League teams: the famous FC Bayern Munich and the TSV 1860, also called Löwen (engl.: Lions). Since 2005 the TSV 1860 is playing in German's Second League.
The facade consists of inflated panels, that can be lighted from inside and shine in three different colors: white if there's no match, red for FC Bayern Munich and blue for the Lions TSV 1860. Colors can be mixed for special events and make a great spectacle at night.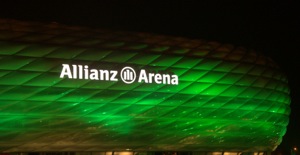 In 2013 as a one time event honoring the Irish St. Patricks's day, the stadium shone in green. My husband and I went out there in the cold night, just to take a picture for you.
If you fly to Munich, try to spot the Allianz Arena from your airplane window, it's a almost magical view, especially at night.
One of the most impressive ways to explore the Allianz Arena is surely to attend a soccer game. Tickets are very thought after, but you can check here if Allianz Arena Football Matches are available during the time of your stay.
The stade is worth a visit even when there's no soccer game. Even someone like me, who isn't interested in football at all, wanted to see the stadium. Unfortunately in my first attempt, I couldn't go on the Arena tour, but more on this later...
With the guided tour you will be taken behind the scenes of this new temple of football. Tours are held several times a day, English tours once daily at 1 p.m.
In about 75 minutes the guide will take you through the player's dressing rooms, Press club, pitch side seating, mixed zone and player's tunnel, as well as a walk around the impressive outside of the arena.
As their official website clearly stated, the last tour starts at 5.30 p.m. and tickets can be bought in front of the Meeting Place at the Allianz Arena Gift Shop located at Level 3 in the World of Brands.
I also made sure there was no game or other event scheduled, because otherwise the tours are cancelled.
Therefore I went to Fröttmaning, in the North of Munich, where the stadium is located.
You can easily get there either by car, public transport or by bike. It is recommended to use public transport, especially if you visit a match.
Take the underground U6 to the station Fröttmaning. From there you will already see the UFO-like shaped arena. Follow the signs and you'll reach your destination in about 10 minutes walk.
The underground station was enlarged when building the Allianz Arena and re-opened shortly before the FIFA world championships in 2006.
After half an hour ride, I reached the stadium and went exited to the Meeting Point to buy the tickets, but what a disappointment!!
On Sundays the gift shop, where you have to buy the tickets closes already at 5 p.m., half an hour before the last tour starts!
I was very upset and with me about 10 more persons that had come the long way and had to leave without making the tour.
I even emailed the Stadion GmbH, to let them know how misleading there website was. But they replied that it was my fault, because somewhere else on their website it stated the opening hours of the gift shop. A very disappointing experience indeed.
Anyways, if you are there during opening hours of the shops, you can not only have a look behind the scenes of Allianz Arena, but also go on a shopping frenzy: both Bayern München and TSV 1860 maintain huge megastores in the World of Brands where you can buy everything a soccer fan could ever ask for.
If you want to make sure, nothing goes wrong, check out the tour to Munich and Allianz Arena by Viator. A friend from Brazil has taken three tours with them in three days and she was exhilarated!
You can avoid the hassle of public transport, are taken comfortably from one place to anothers with other travellers and you get tour guide who's there to explain everything and tell you many details about the sights and attractions you otherwise would never get to know.
Munich City Tour including FC Bayern Soccer Grounds


Are you a fan of FC Bayern Munich? After a city tour of Munich, experience the Allianz Arena, constructed for the 2006 Soccer World Cup and home ground for FC Bayern Munich, followed by a stop at the Fan Club Shop!



Read also about the hidden Legowelt inside the Allianz Arena Return to Munich Attractions