English Garden Image Gallery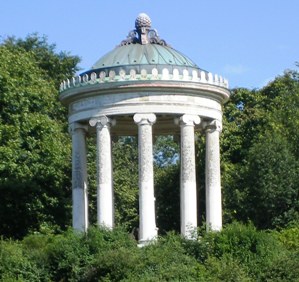 Monopteros
The Monopteros overlooks the English garden. Walk up the hill and you'll have a fantastic view at the skyline of Munich.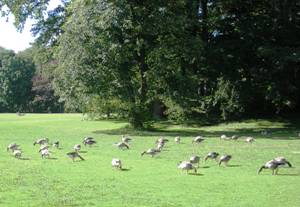 Eating Time
Not only we humans like to relax in the English garden. Quite a variety of birds live here and they're tame enough to be photographed.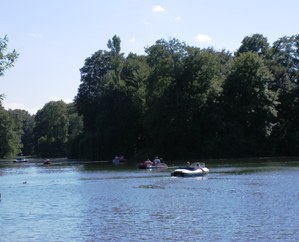 Kleinhesseloher Lake
Rent one of the
pedal boats
and take a tour around the islands in the Kleinhesseloher Lake. Once you're finished enjoying sun and water, drink refreshment at the lakeside beer garden
Seehaus
.
Milchhäusl
Milchhäusl means "house of milk". The name comes from the milk shakes and smoothies sold there and it's a perfect place to meet your friends. It marks the entrance to the English Garden coming from the University of Munich.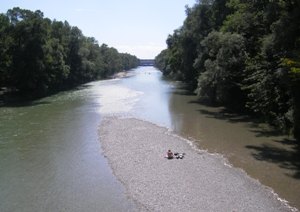 Isar River
The Isar is passing through the northern part of the English Garden. Even though the water is very cold, because the Isar comes from the mountains, you'll always see people bathing here.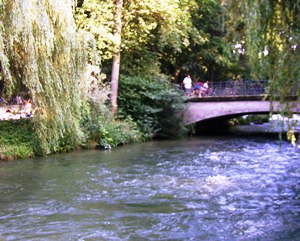 Eisbach
Eisbach means "icy creek". You already know where the icy comes from :-)
The current is very strong and locals love to get into the creek upstream and let the water take them downstream. During the walk back to where you left your clothes you have enough time to warm up again.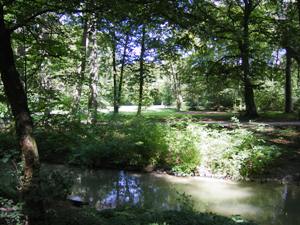 Romantic Spot
The Northern part of the English Garden is much calmer and you'll find many romantic places such as this little creek amidst the trees.