Monastery Andechs
a Perfect Day Trip
There are many reasons to visit Monastery Andechs:
see the famous Benedictine Kloster
enjoy the scenic view over the Ammersee and the foothills of the Alps
do a pilgrimage
drink the mouth-watering Andechs beer Doppelbock (dark beer)or Spezial Hell (light beer)
hike through the green forest
get out of the city into the nature
attend an organ recital in the pilgrimage church
eat typical Bavarian food
attend a catholic church service
make a monastery tour
participate in a brewery tour or destillery tour
We went for many of the above mentioned reasons as well as hoping for better weather there, because it was raining in Munich. Unfortunately the weather didn't clear up (as you can see on the photos), but nevertheless it was a fantastic day-trip.













The monastery Andechs is located on top of the Heiliger Berg (Holy Mountain) and can be seen from far away. Once you've hiked all the way up, you'll be rewarded with a spectacular panoramic view. The best view is from the tower of the rococo church.
We usually go by public transport , but you can also make the trip by car or bike. With the S-Bahn S5 (suburban train) the journey takes about 50 minutes from Central Station (Hauptbahnhof) in Munich to Herrsching. Book your ticket here: Deutsche Bahn.
In Herrsching just follow the signs to Andechs and walk uphill. On sunny weekends you'll be accompanied by many other day excursionists. It's a lovely 1 hour walk through the forest.
Even with the bad weather, you can see that we enjoyed ourselves on the hike.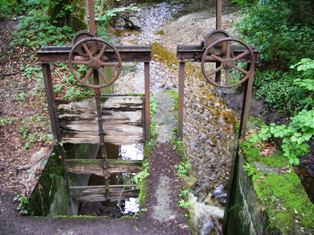 Andechs Monastery is not only famous for its pilgrimage, the church and the breath taking view.
Among non-Catholic Bavarians it is even more famous for its beer. The trademark beer is the Andechser Doppelbock (double bock), which is a dark and strong beer. It is brewed in the so-called Triple Mash procedure and has more alcohol and a sweeter taste than a light-colored beer.
The Andechs brewery produces seven different varieties of beer. If you're interested in the beer brewing process, you can participate in a guided tour to the brewery. Check the Andechs Monastery website for information.
If you like the taste of German beer (which I'm sure you do), and want to try yourself as home beer brewer, you can buy beer brewing kits and use real German ingredients like yeast, to get this special taste.
More Information about Andechs: