Rothenburg Germany
Experience a Truly Romantic Vacation
Rothenburg Germany, with the full name Rothenburg ob der Tauber is touted as the most romantic village in our country. After visiting last December, we concluded, that this is true!
Medieval Town
It's one of the best preserved medieval towns in Germany and you experience the Middle Ages with every step you take.
Depending on your time frame, you can easily make the visit as a day-trip from Munich. We decided to stay for the night, because with our 3-year-old son it would have been too exhausting otherwise.
If you want to revive the love in your relationship and spend some amorous two-time you just have to stay for at least one night to experience the romance of the late evenings in this wonderful place.
Even though it was December we had fantastic weather during our trip: cold but with sunshine. Unfortunately we didn't have snow, which makes the atmosphere even more charming. As we stayed in a hotel just outside the historical center, the Galgentor or Gallowsgate (also called Würzburger Tor) was the first thing we saw.
Fortification Wall Surrounding the Center
My husband had to finish some work (why do men always bring their work with them on vacation or weekends??), therefore Gabriel and myself were on our own for the first excursion into the Middle Ages.
Guess what was our first stop? You're right: we had to climb the city wall.
Doesn't that look truly charming? I was taken aback by the sheer beauty of the landscape, while my son was delighted to walk the city wall and feel like an authentic knight.
You can walk almost a complete circle around the old city and have some stunning views. If you make it all the way to the Castle Gate on the opposite side, you have a terrific view across the Tauber valley.
Things to Do in Rothenburg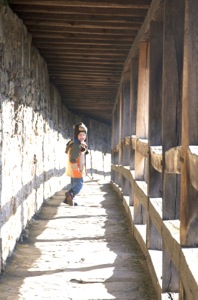 There are so many things to do, you could easily spend two or even three full days, but as I said above if you're in a hurry one day is sufficient.
Let me give you an overview of the must-see attractions:
Market Square with Town Hall
Käthe Wohlfahrt Weihnachtsdorf (Christmas Village)
Historical Vaults
St. Jacob's Church
Imperial Town Museum
City Walls with Gates and Towers
Medieval Crime Museum
Plönlein with Siebers's Tower (the most popular photo spot)
Spital Bastion
Käthe Wohlfahrt Christmas Village
I was especially interested in visiting the Christmas Village and Christmas Shop of Käthe Wohlfahrt. You probably know that I'm a big Christmas fan and have written the book German Christmas Traditions. It was obvious that our next stop would be the Weihnachtsdorf.
Oh my God! I was so overwhelmed, it's unbelievable!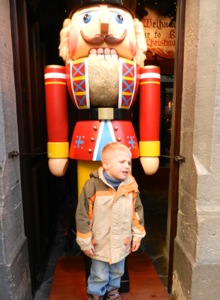 My husband doesn't like this Christmassy stuff, but even he had to admit, that it looked "quite nice".
You probably have seen pictures of the huge nutcracker before, where people take photos of themselves. Like good tourists, we did the same.
When entering Christmas Village (Weihnachtsdorf) you admire lots and lots of decorations to buy: Nutcracker, Incense Smokers, Hanging Ornaments, Candleholders, Schwibbogen, Pyramids, Music Boxes, Cuckoo Clocks, Figurines and dozens of preciously decorated Christmas trees.
It's simply overwhelming. But the best part is yet to come! The small path ends on a gallery and suddenly the view opens to see the "Christmas Village" below. It's impressively lit with the huge Christmas tree forming the center of the big hall. The dark starry sky above you makes it even more romantic and charming.
The picture below doesn't do it justice, in reality it's even more beautiful.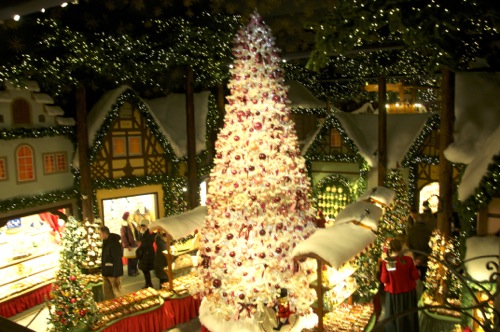 Inside the shop is also the Christmas Museum with nostalgic exhibitions of Christmas decorations from the last centuries, primarily decorations used in Germany and Austria.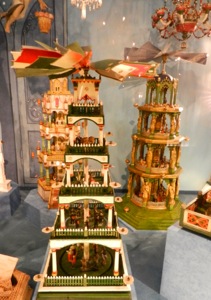 After the stunning experience in the shop I had high expectations and was quite disappointed. The exhibits are all in glass vitrines and don't exude the same fantastic atmosphere, it's rather a down-to-earth experience.
If you're interested in the history and background of the ornaments, then by all means go there. A small entry fee is charged.
By the way, the "Wohlfahrt Christmas Empire" in Rothenburg ob der Tauber consists of the Weihnachtsdorf, the museum and four more Christmas shops called "Der Christkindlmarkt" (Christmas market), "Das Uhrenhaus" (House of Clocks), "Der Rosenpavillion" (Rose Pavillion) and "Glückspilz im Zauberwald" (Magic Mushroom). They all feature different products.
You can get all information on their official website: Käthe Wohlfahrt
Historic Center with Town Hall and Dungeons
The rest of the day we spent wandering around the historic center of Rothenburg Germany, visiting the Christmas markets and the Historical Vaults museum in the Town Hall with the dungeons.
On our second day in Rothenburg ob der Tauber we decided to "leave" the Christmas spirit behind us and concentrate on the medieval past of the town. But first things first: we had to buy a sword for our son. Because a real knight absolutely needs a sword. Right?
There he is, defending the town and its fortress against all villains.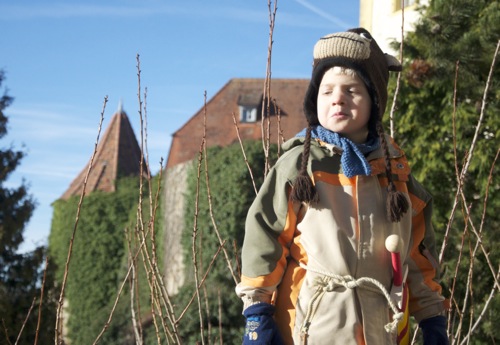 Reichsstadtmuseum - City Museum
The city museum was the last attractions we visited. It has so many floors, rooms and exhibitions, that I almost got lost once and only found back to my family, because I heard them talking loudly and could find my way back to them by following the sound of their voices.
If you stay on the recommended round-way this won't happen to you. The city museum is a treasure chest for anyone remotely interested in history, knights, the Middle Ages, historic guns and rifles, or the daily life centuries ago.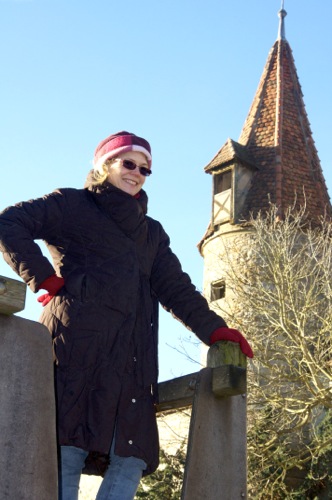 Traditional Sweets
If you ever visit Rothenburg Germany, there's one more thing you must do. Eat one of the famous Schneeballen (snow ball). This is a traditional specialty made of shortcrust and covered with different toppings. We tried the plain dark chocolate Schneeballen and it's delicious!
It's also a great souvenir to bring back home (if your import laws allow bringing food), because it will stay fresh for 6-8 weeks.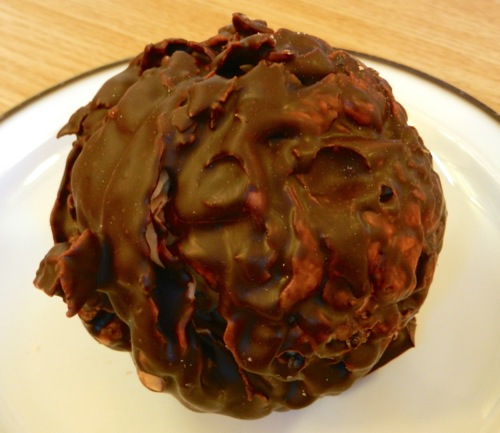 Where To Stay
There are several hotels inside the old city walls in historical buildings. Unfortunately most of them are quite pricey. We stayed in the Hotel Gasthof zur Linde just outside the Galgentor. It's was definitely ok, but I wouldn't want to recommend it to you. There are nicer places to stay. One of them is the Hotel Rappen.
We had lunch in their restaurant "Pfannkuchen Kuchel" when we arrived. They specialize in Pfannkuchen (pan cakes), sweet, hearty, vegetarian, with meat. Apart from the pancakes they offer normal German food like Schnitzel etc. My husband stayed there to make his phone conference and that was no problem at all. Additionally they are very kids-friendly and had even some toys for Gabriel.
As I mentioned, we didn't sleep there. But from what I saw in the restaurant I can only recommend this hotel. It's clean, prices are moderate and the service personnel is very friendly. The location is just a few steps outside the historic center of Rothenburg and it has its own parking lot.
How to Get There
From Munich it's a convenient two hour drive on the Autobahn. If you don't have a car or don't want to rent one, you can easily go there by train as well. If your hotel is located near the Hauptbahnhof in Munich this might well be the faster method to travel to Rothenburg. Bayern-Ticket
In the town itself you don't need a car. The historic center (which is the interesting part for tourists) is quite small and in most parts cars aren't allowed anyways. We left ours in the parking lot of the hotel and never touched it until we had to leave again.
The most convenient way though is to participate in a tour.
Book a Tour
Viator offers several tours from Munich. The shortest one is the day-trip to Harburg Castle and Rothenburg, which is the one I recommend for a day trip from Munich.
The price of 49 Euro per person is about the same price you would pay for a train ticket or renting a car. Additionally you have the convenience of being taken to your destination without having to worry about directions etc. Click here to book with Viator

If you have more time, an overnight trip from Munich to Frankfurt (or vice versa) along the Romantic Road, spending the night in Rothenburg ob der Tauber might be the perfect solution. This tours is ideal if your plane back homes leaves from Frankfurt anyways. With a bit planning you can save on the inner-German flight from Frankfurt to Munich and take the Romantic Road tour instead.
The Romantic Road Tour can be extended to 3, 4, 5 or even seven days and include more must-do sightseeing in Southern Germany such as Hohenschwangau, Neuschwanstein, Heidelberg, Augsburg and even the Zugspitze. The possibilities are varied, it just depends on how much time you want to spend and what you want to see.
Check out all the offered tours below:
Return to Day Trips from Munich