Hohenzollernplatz in Schwabing
The Hohenzollernplatz lies in the heart of Schwabing and is a great place to start your evening tour to one of the many restaurants nearby.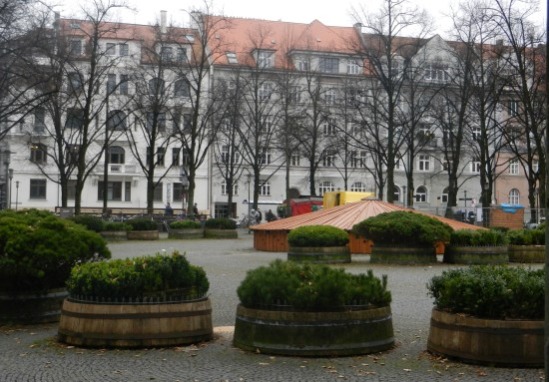 It's a central transit point in Munich with the underground, tram and bus lines crossing here. You won't have any problem to get here, even late at night, as there are also two night bus lines.
The square itself is surrounded by tall buildings, some of them carefully restored art nouveau buildings (Jugendstil) of the early 1900s. I love those buildings! They have their own special charm, and when you have the opportunity to be invited inside, you should definitely take it.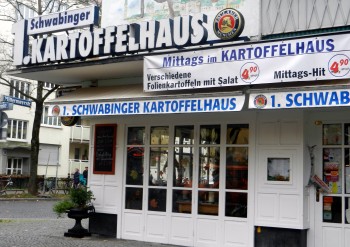 At Hohenzollernplatz you find supermarkets, an Asia shop, bakeries, a hairdresser and the First Schwabinger Kartoffelhaus.
The "House of Potatoes" serves only dishes with potatoes, and they have about one hundred different variations on their menu. We love to eat here, because it's warm and cozy inside and you can taste typical German food.
Walking up north from Hohenzollernplatz is where you want to go in search for that perfect dinner place.
The Herzogstrasse is home to a dozen great restaurants. Just walk down the street in direction to the Leopoldstrasse and I'm sure you find something you like.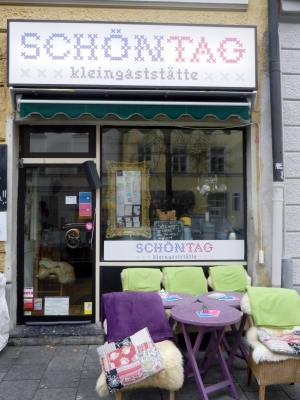 Over the years I'm sure we've eaten in all of them and they're all good. It just depends what you want.
Maybe the Greek restaurant Elia? Or you prefer Mexican Food at Tacos und Tequila?
There's also the Latin American restaurant and bar El Patio, that offers authentic Mexican food with a higher quality (and higher prices) than the usual Mexican food in Munich. They also serve delicious cocktails and if you speak some Spanish you will be fascinated by the quotes that are written on the walls all over the place.
Schöntag is a one-woman restaurant that mainly offers delicious cakes for your afternoon coffee break, but also one or two mouth-watering pasta dishes of the day. All home-made.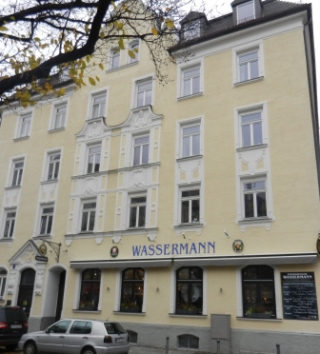 The Schwabinger Wassermann offers a wide range of food from Bavarian to Mediterranean to Mexican, but their best offer is the wide range of breakfast dishes.
Each breakfast has the name of a zodiac sign (Wassermann means Aquarius) and I can guarantee that you'll love them.
Walk along Herzogstrasse and chose the Munich Restaurant you like most.
Return from Hohenzollernplatz to Munich Restaurants