Bavarian Restaurant Kugler Alm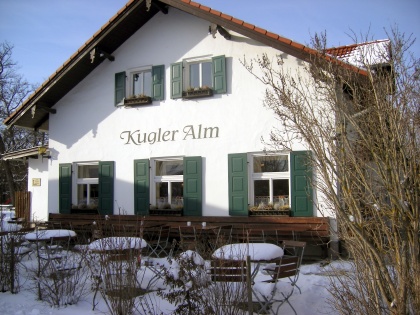 The
restaurant Kugler Alm
is a very popular place - in summer and winter!
In summer time you can sit outside in the big beer garden, in winter you enjoy the delicious Bavarian food in one of the rooms with rustic decoration.
I had been here before with the company I used to work for, but for Tobias it was the first time. Of course you can go by car, but it is much nicer to walk. Kugleralm lies amidst the Perlacher Forst, a huge forest and favored recreation area for Munich's citizens.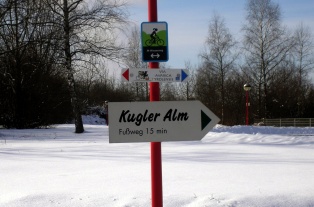 There are plenty of hiking trails through the picturesque landscape. In winter you can even come here with your cross-country skies !
We took the S-Bahn S6 to Holzkirchen, got of in Furth and followed the sign to "Kugler Alm". It's only 15 minutes walk.
Just have a look at the wonderful winter wonderland!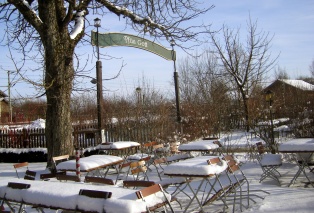 The food is simply delicious, lots of Bavarian goodies. We were in the mood of something sweet and ordered Schmalznudeln. These are similar to donuts, but without filling and fresh from the pan. Another word for it is Ausgezogene and you can get this Bavarian specialty in almost any beer garden.
It is heavenly! Especially together with a hot chocolate or cappucino when it's cold and snowy outside, like on the day when we visited.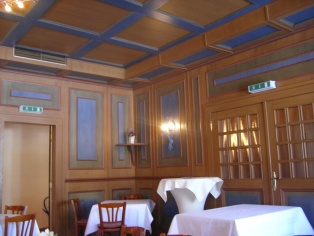 After eating and drinking, we went on with fresh energy. There are so many hiking trails through the Perlacher Forst, you could walk for days :-)
We opted to head over to Grünwald and take the tram back to Munich from there. That was a lovely 45 minutes walk through more snow-covered meadows and trees. Just wonderful!
Whatever the season, you will enjoy your visit to the Kugler Alm.