Cafe Tambosi am Hofgarten - Munich's Oldest Cafe
Update: Sadly, the Cafe Tambosi closed its doors in December 2016 after more than two hundred years of existence.
Cafe Tambosi:
The smell of freshly brewed coffee. Lively chatter. Silverware clinking on plates. Elaborate ice cream dishes topped with whipped cream. Slices of freshly baked cake. These are the treats that catch your eye as you walk through Luigi Tambosi as you try to find a seat.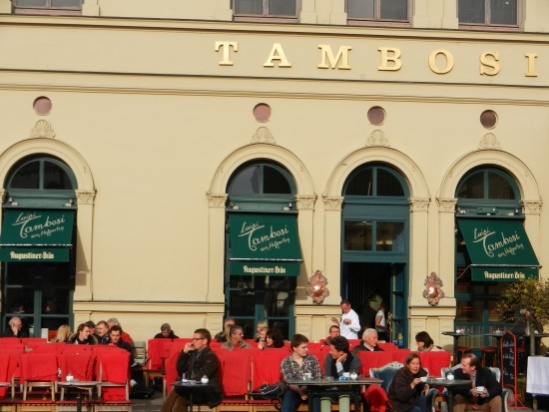 Cafe Luigi Tambosi, which was founded in 1775, is the oldest cafe in Munich. This cafe is a popular destination for tourists and natives alike. In fact, despite it's popularity in the tourist guidebooks, there are always more Germans here than travelers.
What draws people here? It isn't merely the cafe's age and tradition. Perhaps it's the atmosphere. Some of the furnishings and decorations look like they may be original - or close to it. Or, maybe it's the food. Though the menu has a modest selection it's always tasty - and they can be relied on to have some excellent ice cream selections.
History and Tradition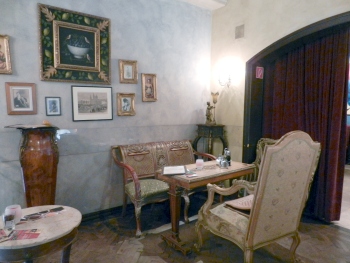 Have you ever heard of an old fashioned Kaffeehaus?
If you want to experience one for yourself, Cafe Tambosi is exactly one. It has maintained its original atmosphere and when you sit inside, you imagine that you are sitting in a different time.
In this case, that time is the Baroque era. Did you know that Mozart himself actually frequented it here?
Where to Sit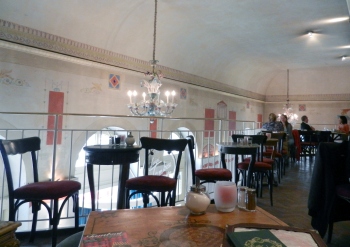 There are three main seating areas. The indoor seating is always packed but if you go during the colder months, it is the only choice you have if you want to enjoy the cafe.
There is also seating outside overlooking Odeonsplatz. Or, if you want to enjoy the garden, you can sit out back. The Hofgarten seating looks like it came straight out of a Renoir painting.
What to Eat and Drink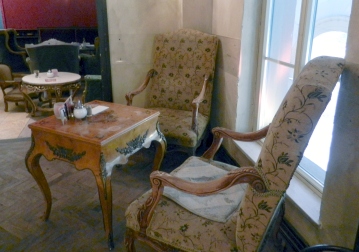 The menu has a limited selection of food, mostly Italian in origin. But, what I have tasted has been great. The last time I was there I had a simple Spaghetti Marinara. I've also enjoyed the Insalata Caprese.
Mostly, I go there for the coffee or tea and for the ice cream. One of my favorite ice cream dishes includes freshly brewed coffee, scoops of vanilla ice cream, and whipped cream (called Eiscafe). It's to die for! Basically, I've never been disappointed by anything I've ordered.
As for coffee, try the Lola Montez, a double espresso with chocolate and cream. Hmmmmmmm!
Getting There
Cafe Luigi Tambosi is located at both the Hofgarten in the Residenz Palace grounds and Odeonsplatz, one of the main squares in Munich. It's an easy walk from Marienplatz and the main shopping area (Kaufingerstrasse) in the center of the city.
You can also access it by U-Bahn with either the U3, U4, U5, or U6 lines. There isn't an easy way to bring the car to the area because Odeonsplatz is open only for pedestrians and so is the Hofgarten. But you wouldn't use your car in Munich anyways.
Why I Like Cafe Tambosi
For me, there are several reasons why I like it here. First, I absolutely love sitting in the outdoor garden seating on a sunny day after shopping.
It's the perfect place to relax, grab a quick bite to eat (or some ice cream) and have a cup of tea or a glass of wine.
Also, it is a wonderful place for people watching, especially if you sit outside. The indoor seating is lively and makes a nice destination to bring a group of friends. Not only that, but I feel as if their coffee is exceptional. Why shouldn't it be? They've had a lot of time to get it right!
If you want to experience an old-style European coffee house, Cafe Tambosi is the place to do it. Not only is it a historical place, but the atmosphere, food, and drink definitely live up to its reputation.
Visit their website here