Hunting and Fishing Museum
Jagd- und Fischereimuseum
Few people know about the Hunting and Fishing Museum in Munich, even though it's located directly in the pedestrian zone between Marienplatz and Karlsplatz / Stachus. But you will recognize the animals lining its entrance: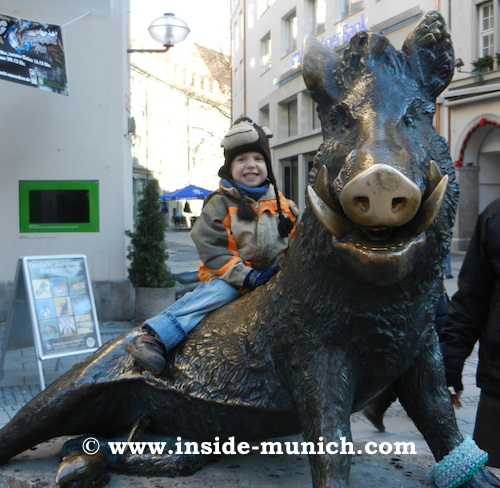 The wild boar and the big fish are photo magnets for tourists, but few take the time to explore the museum a few steps further.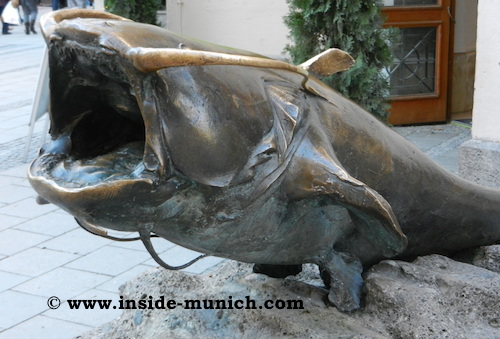 As the name implies the museum is features hunting and fishing. But it offers some surprises, you might not expect in here.
Native Animals
Big parts of the ground floor are dedicated to native animals such as wild boar, game, fox, rabbit, and marten.
Many of the animals are prepared and almost look alive. But there are also educational exhibits for children (and adults) like the one on the picture below with several pieces of fur. You can touch and feel the furs and guess, what animal it belongs to. Check the correct answer by opening the lid. And beware: the animals have very different furs during summer and winter time. A fun learning experience!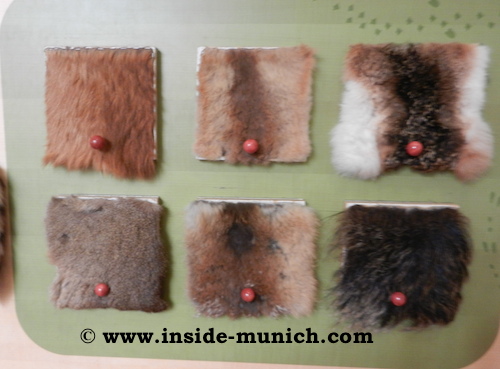 Native Fish
The second floor is dedicated to fishing.
The brand new Isar river landscape will take you on a journey along Munich' river. It's almost like being on the river bank. It looks so real, our son refused to cross the "river" because he would get wet shoes :-)
Several plastic fish, photos and short movies give you an impression of the live in the Isar river.
For fishing enthusiasts there's a whole section with historic fishing rods and all kinds of accessories.
Temporary Exhibitions
In the second floor you find the temporary exhibition. When we went there in December, it was a fascinating collection of spine-chilling masks that were part of the German Christmas and New Year's traditions for many centuries.
These scary creatures are called Perchten, Krampus or Buttnmandl and were supposed to banish evil spirits. Good people had nothing to fear from the masked creatures, but persons with bad intentions should better run very fast!
The temporary exhibitions usually last for 2-3 months, before a new topic is chosen.
Sleighs and Weapons
The second floor also features a collection of different horse-drawn sleighs used in former centuries as medium of transport.
And you find all kinds of hunting weapons used by the kings and nobles of Bavaria.
Stunning Architecture
The Hunting and Fishing Museum is hosted in a former church. You can appreciate the stunning architecture of the Augustine Church that was profaned in 1803 with every step you take. Breathtaking domes, flights of steps, and frescos mostly in white give you an impression of the former brilliance and luxury of this building.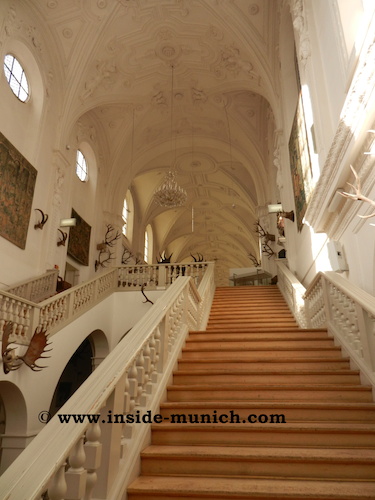 Opening Hours
Daily 9.30 - 17.00
Thursday 9.30 - 21.00
Closing Days: 1.1., Shrove Tuesday, 24.12. and 31.12.

Address
Neuhauser Straße 2
In between Marienplatz and Karlsplatz
Entrance Fee
Currently reduced prices due to renovation work.
For more information visit: Hunting and Fishing Museum (only in German)
More Museums in Munich