Maria Einsiedel Pool is the only Natural Open Air Swimming Pool in Munich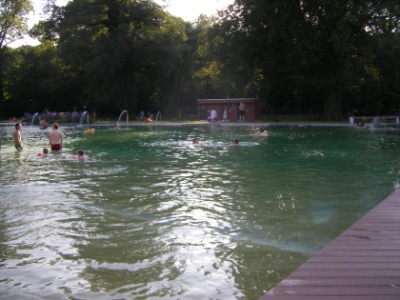 Maria Einsiedel pool is by far my favorite of all the Munich outdoor baths!
And that's not only because of the romantic location in the Isarauen next to Munich's river the Isar, but mainly because it feels like swimming in a natural lake.
As you can see from the pictures, the water is greenish like natural water is, because it's not treated with chlorine or other chemicals and the cleaning is done in a natural biological way.
There is a huge regeneration area including an open air cleaning basin with microbes and an underground gravel-pit that thoroughly purifies the used water biologically.
The water quality is even better than in conventional baths: the water is "soft" (with little lime) and off course, your eyes don't burn after swimming! And even with freshly dyed blond hair you can swim without the risk to emerge like a mermaid with green hair :-)
Apart from the two basins (a 50m Swimmers pool and a non-swimmers area), the great attraction is the Isar flow channel, something you will not find anywhere else!
A small part of the river has been diverted, now flowing through the swimming pool area. But beware, the water is cold and the current strong. Even though you can stand at most places, it's dangerous for non swimmers!!
I personally prefer to swim in the heated basins :-) (I'm a real wimp when it comes to water temperature.)
When you're done swimming and sunbathing, don't miss the chance to explore the area: with several beer gardens, hiking and biking trails, the zoo and even a golf course, it's the perfect place to relax during your vacation here in Munich.