Oktoberfest Dirndl Lola Paltinger
Lola Paltinger is undoubtedly the Queen of Dirndl . She's one of the most famous German fashion designer for Tracht and Trachtenlook and makes the most stunning Oktoberfest Dirndl you could ever imagine. I think every woman needs to have one of her pieces.
I had the pleasure to visit Lola in her studio and she was kind enough to spend one hour talking with me and giving me many insights, that I want to share with you.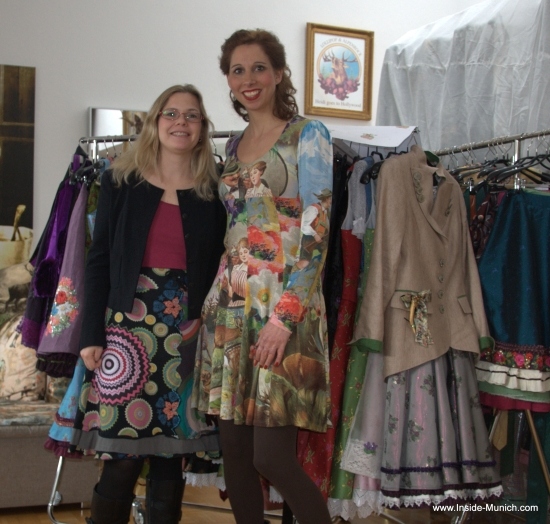 From every detail in her place you can tell that she really loves her work. She works and lives in the same building with her son and her mother, only separated by a staircase.
This makes the atmosphere very personal and it's almost like entering her home instead of a cold and impersonal showroom. After cheerfully greeting me she kindly offered me coffee and we sat down at her huge table, where she normally shows textiles, pictures and drafts to her customers.
Best Possible Customer Service
I had the pleasure to also meet her mother Brigitte Paltinger who is a couture seamstress. According to Lola, her success has only be possible thanks to her mother's help and her more than 50 years experience in the couture fashion design.
While the daughter is the head of the two-women team, the mother can be seen as the heart of the business. At an age when other women have retired long ago, she still works in the studio every day, receiving customers, taking measurements and advising as best as possible her celebrity clients to find the best suited Dirndl dress for them.
One of the secrets why everyone is delighted and satisfied with the Lola Paltinger dresses, is the unfailing customer service, as either Lola or her mother Brigitte personally attend the clients. Both of them know how important personal experience and a first-class customer service is, as their usually celebrity clients won't accept anything less than stellar.
But this doesn't mean, a woman can buy any dress she wants. If the Paltingers find a customer falling in love with a Dirndl that definitely doesn't suit her, they're not afraid to say "Sorry, we won't sell this one to you".
Although the society ladies are not used receiving a no, they all gladly except the advice and are thankful for this honest attitude that put the business in second place.
Couture: Lollipop and Alpenrock
As final project to graduate from fashion school in Munich in 1997 she created the collection "Lollipop and Alpenrock", that is now her signature couture line.
The collection was highly applauded by the jury, won the first prize and became know to the media. Lola Paltinger herself was surprised by the big success but took the chance right there when it presented itself and started her career as fashion designer exclusively for Dirndl and Tracht.
The signature collection Lollipop and Alpenrock are very carefully sewn with only the best quality materials. Paltinger designs her own fabrics, that are produced exclusively for her in Italy. She guarantees that there are only 2 Oktoberfest Dirndl made of the same fabric. Even those two will not look the same, because even although the fabric for the dress is the same, the details such as the braid or the Charivari (necklace worn across the bustline), as well as blouse and apron are made different according to the preferences of the customer.
To ensure best quality, everything apart from the Italian fabric, is still made in Germany. 30 employees in a tailor shop in nearby Nuremberg workexclusively for the Lollipop and Alpenrock and the Happy Heidi collections.
Pret-a-Porter: Happy Heidi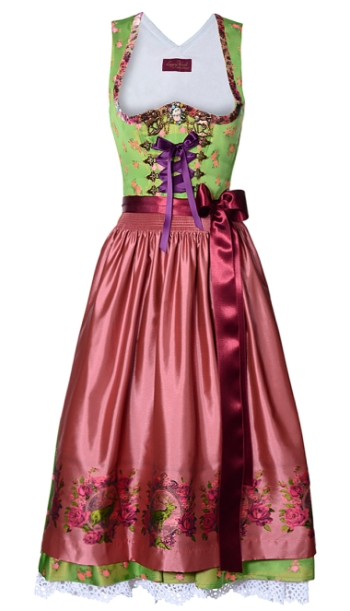 For people like you and me she started a second line, the pret-a-porter collection Happy Heidi. You will agree with me, that they are breathtaking, and you can buy them online, i.e. at Lodenfrey.
Asked where her inspirations come from, she told me that she gets inspired by everything she sees and thankfully has never had a lack of new design ideas.
This must be true, because she started a third Trachten collection called Himmelblau. This time it is geared towards women who don't want to spend a fortune on a Dirndl that they will probably only wear a few times, but still want to look great and stylish.
She has partnered with the home shopping channel HSE24, and for Himmelblau she does the design, whereas they take over production, quality control and marketing. For you this has the advantage that you can own a real Lola Paltinger for the fraction of the cost of her famous luxury dirndl.
Tips from the Pro
The more luxurious and glimmery the dress is, the less jewelry you should wear.
If you need a change in your look, just get a new blouse and a new apron and you have a whole new outfit. This is also her recipe for different beer tents. She explained the importance for her celebrity clients to fit in with style of the tent they're visiting. Some tents, like Käfer are darker and you can sparkle all you want, while at the yellow and red Hippodrom, this would be too much and you should tone it down a bit. For the Ochsenbraterei tent she recommended to keep your Dirndl down-to-earth and more traditional maybe even in the colors blue and white to match the tent colors.
Off course you and I don't need to be as detail oriented, because we don't have paparazzi, radio and television following our every step on the Oktoberfest, but these hints are still helpful when you buy your Oktoberfest dirndl.
About the length: the mini dirndl is out. Minimum recommended length is just below the knee, or mid lower leg. She doesn't recommend full-length skirts either, because the skirt tends to lose swing and lightness.
Shoes to wear your dirndl with: wear what you like. That's good news for us, right?
One thing though, that's more important than everything else is that the Dirndl fits like a glove. It must be in perfect shape even after long party nights, show off your cleavage, reduce your waistline and still be comfortable enough to dance in even after eating a little bit too much.
That is what a good Oktoberfest dirndl must do.
Make Your Dirndl Suitable for Everyday Use
One last tip from Lola Paltinger that I personally found especially useful is how to make your dirndl suitable for everyday use.
Buy a two-piece-dress with corsage and skirt separately.
Worn together nobody will see the difference to a traditional one-piece dress, but after the Wiesn is over, instead of hanging your luxurious outfit into the closet for the next 50 weeks, you can wear the two pieces separately.
Jazz up your jeans with that stunning Dirndl bodice, or wear the Trachten skirt together with a single-colored sweatshirt for a stunning appearance at any party.
This converts your 2-weeks-in-a-year dress into a extravagant outfit you can wear year around.
If you want an authentic Lola Paltinger Oktoberfest Dirndl to make a lasting impression, there are three possibilities:
Visit the studio or call her for a luxury couture dress, that leaves you on par with the society ladies. www.lolapaltinger.com
Buy a Happy Heidi piece from the pret-a-porter collection i.e. at
Either way, I wish you a wonderful time with your new Oktoberfest Dirndl.
Return to Bavarian Tracht