Oktoberfest Songs
Wiesn Hits
The popular Oktoberfest songs are repeated over and over in all of the beer tents.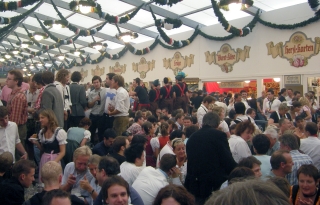 People get up to stand on their beer benches and sway left and right (German: schunkeln) to the beat of the music. You'll have even more fun, if you can chant the lyrics of the songs.
Music is definitely an important part of the Oktoberfest, maybe as important as the beer itself :-) Most of the Oktoberfest songs are in German, but luckily for you, there are also some in English.
Every year there's a so called "Wiesn Hit", supposedly the most popular song during that years celebration. If you learn the lyrics (at least the chorus) of a few Oktoberfest songs, you will have a lot more fun celebrating. By the way, the melody isn't as important, with thousands of persons trying to sing as loud as possible, nobody will notice, if you are in dissoncance.
Below you will find some of the classic Oktoberfest hits, the ones that have moved millions of people over the years and are repeated each and every year. If you learn the lyrics once, you can sing those songs basically forever.
Skandal im Sperrbezirk
by Spider Murphy Gang
This is easily the most popular Oktoberfest song ever.
Skandal im Sperrbezirk (Scandal in the off-limits area) by the Spider Murphy Gang, a Munich rock band, was a German Number One hit in the early eighties and is still alive and kicking every year on the Wiesn.
By the way, the famous phone number 32-16-8 is not in existence in Munich, so no need to try and call.
This Oktoberfest song has so much power, that it used to be forbidden in the tents, due to security reasons. Imagine thousands of people frenetically hopping up and down on the wooden beer benches and you get the idea ...
Lyrics to Skandal im Sperrbezirk
Ein Prosit der Gemütlichkeit
This song is the one like best by the beer tent owners and breweries. Apparently someone has calculated that each time this Oktoberfestlied is played, 1000 liters of beer are swallowed.
I'm not sure if these numbers are correct, but whenever the Oktoberfest band plays "Ein Prosit" (and they do it often) you are supposed to stand up, toast with everyone and take a big mouthful from your Masskrug.
Lyrics to Ein Prosit der Gemütlichkeit
Ein Prosit, ein Prosit
Der Gemütlichkeit
Ein Prosit, ein Prosit
Der Gemütlichkeit.

Oans, zwoa, drei, Gsuffa!
So ein Schöner Tag
by Donikkl
This Oktoberfest song is rather new (from 2008), but already a classic. Apart from the song it self, the accompanying hand movements are important.
You'll see all the others doing it and will learn the movements quickly. It looks rather strange to see thousands of people standing on their beer benches, pretending to swim, fly and jump, but it is a lot of fun!
Marmor, Stein und Eisen Bricht
by Drafi Deutscher
This is a really old song! It was first recorded in 1965 and I believe it has been an Oktoberfest song ever since. Because the song has been there for such a long time, virtually every German visitor knows it. You'll rarely find anyone who doesn't...
By the way, together with "Skandal um Rosi", this is my favorite song.
Hölle, Hölle, Hölle, Hölle! Wolle Petrys
Viva Colonia - De Höhner
You might be asking yourself why a song toasting a north German city is sung in a staunchly proud southern Stadt like Munich.
But Viva Colonia (Long Live Cologne) has such a rip-roaring tune the Bavarians just had to have a piece of it - although the title cry is often transformed to Viva Bavaria!
Cologne band De Höhner recorded the song in 2003 and landed themselves a national hit. The song's about about loving life and civic pride for the city of Cologne and gets played a lot at Karneval time.
Fürstenfeld - S.T.S.
Hände zum Himmel - Kolibris
Ab in den Süden - Buddy vs. DJ The Wave
Er Gehört zu Mir - Marianne Rosenberg
Anton Aus Tirol - DJ Ötzi