Oktoberfest Beer Tents
Image Gallery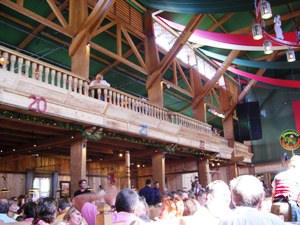 Weinzelt
Weinzelt tends to be less crowded than the other beer tents. This picture was taken on a quiet Sunday afternoon.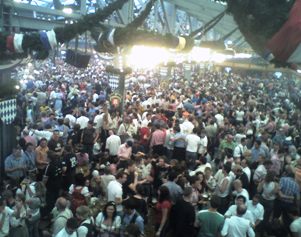 Schottenhamel
Saturday evening and everyone is dancing at Schottenhamel! This is usually the most crowded beer tent. I took the picture from the balcony and you can't even see the aisles between the tables.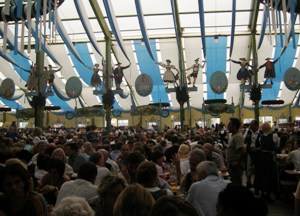 Ochsenbraterei
Even though it's early afternoon, the Ochsenbraterei beer tent is already full. Only with luck or a reservation it's possible to find a seat. We came around 11 a.m. and still had a big choice of empty tables. But no dancing on the benches before 3 p.m. allowed!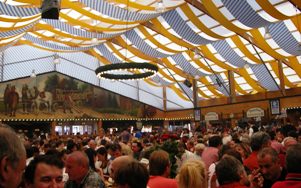 Fischer Vroni
Fischer Vroni is famous for
Steckerlfisch
(grilled fish). Some of my friends love to come here; others hate the smell of fish.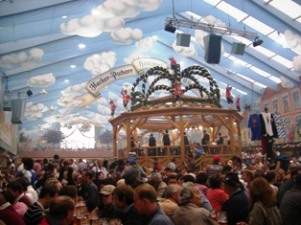 Hackerzelt
Tuesday afternoon, the atmosphere is still calm in Hackerzelt. High emotions will fly after 6 p.m., when the band starts playing popular songs.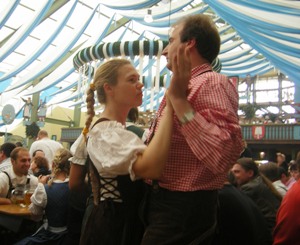 Dancing
Tobi and I dancing in Ochsenbraterei. Early afternoon on Sunday we still had plenty of room to dance on the floor. Later on the aisles will be full and you have to dance on the benches :-)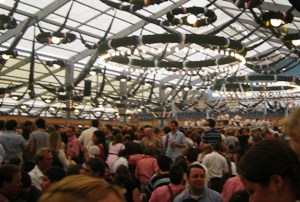 Schottenhamel
Everyone is standing on the beer benches and dancing. For my liking, Schottenhamel is much too crowded, but you can't be picky when one of your friends has reserved a table on Saturday afternoon, right?