Oktoberfest Image Gallery
Fun Rides
Oktoberfest Attraction
This is one of the many carnival rides, the Oktoberfest in Munich offers. If you are daring, you'll love the adrenalin rushes you can experience here.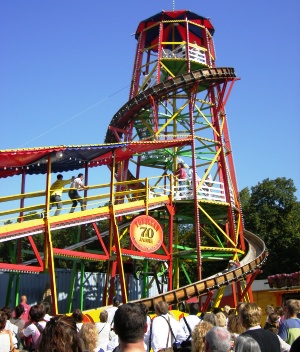 Tobogan Fun Ride
Tobogan has a history of 70 years at the Oktoberfest in Munich and is still as funny as ever. This is one of the rides, where the spectators have a lot more fun watching than the participants trying to keep their balance. We never miss it!
Click below on the "play" button and you will see a live scene of the Tobbogan.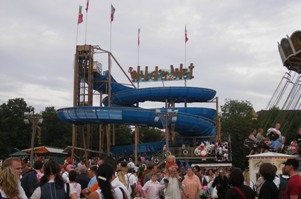 Roller Coaster
Wild and Wet - Roller Coaster. As the name implies, there is water in place. We like to use it only on sunny days!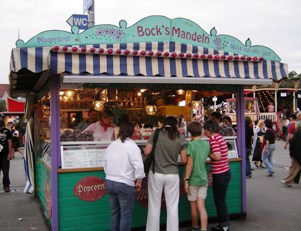 Stall with Roasted Almonds
Hmmm.... roasted almonds are a must-eat for me during Oktoberfest. Without them, it's just not the same.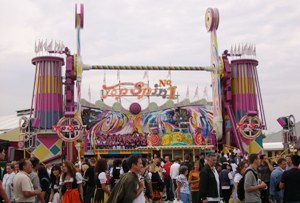 Top Spin
Top Spin carnival ride will always be something very special to me: this was the fun ride Tobi and I did together, when we first met.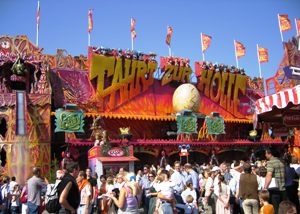 Haunted House
"Fahrt zur Hölle" means Ride to Hell in English and as you'd have thought it, it's a tunnel of horror.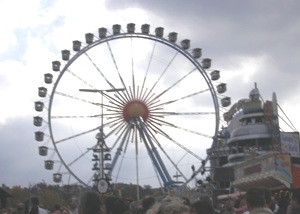 Observation Wheel
The big wheel is another of the historic attractions at Oktoberfest. Come here to get a splendid view across Munich and the Theresienwiese.