Small Oktoberfest Tents
Did you know that apart from the 14 big, well known Oktoberfest tents, there are at least 20 smaller ones, that you can visit?
They are smaller and less known, but that doesn't mean that you won't have a lot of fun there! And, in fact, they might even be better for you for a number of reasons:
They're usually less crowded, which means you may still get a seat, when all the big tents are already closed
They're smaller and if less rowdy, which could be exactly want you want. Party yes, but a bit more laid back
Some tents offer a great variety of cocktails if you just can't stand any more beer
Still looking for the big tents? Here you find description and pictures of all the
Big Beer Tents Part 1
Oktoberfest Beer Tents Part 2
Want to see the smaller beer tents? Come with me on a virtual tour!
Feisingers Kas und Weinstubn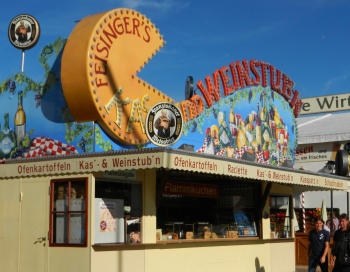 Feisingers is a very small tent with 98 seats and 90 more in the beer garden outside. It seems more like a French tent, with cheese and wine, but definitely delicious!
The raclette is the signature meal you can order here, but of course, there are also different salads, baked potatoes and schnitzel if you don't like cheese.
This is a great tent to go to for families and kids. Feisinger is proud they reserve a maximum 50 percent of the capacity, so chances are high you'll find a seat here.
Zur Bratwurst
This is a small tent with only 170 seats. As the name Bratwurst (sausage) implies, you can get all kinds of sausages, including Bavarian specialty sausages.
Don't miss this Oktoberfest tent if you're a first timer and want to get to know our delicious sausages. Some of them are still made over the open fire. A sight to see! And, there's a kids menu as well.
The tent looks like an old medieval house and has two floors. The "Franceso Blue Trio" pampers you with traditional music.
Glöckle Wirt
The smallest Oktoberfest tent has only 98 seats, but it's still worth going to.
Here you don't find the big party but "German Gemütlichkeit" (cosiness) like in one of those old taverns in small villages.
After 4 p.m. the "Schubiduo" plays party music.
Hendl- und Entenbraterei Heimer
As the name says, chicken and duck are the main foods on the menu.
A real Bavarian duck is served with Blaukraut (red cabbage) and Knödel (dumplings). This is your chance to taste one of the best Bavarian ducks. If you're in a hurry, you can also buy the duck at the street sale.
If you want to party, this is the wrong tent for you, there's no music here, but it's a great place to sit and talk during lunch or dinner. Enjoy with your friends and have your very own party.
Poschner's Hühner und Entenbraterei
This medium-sized Oktoberfest tents has 350 seats and an usher guides every visitor directly to a table.
No searching around or standing in the alleys. This totally changes the atmosphere and makes it more like a restaurant but with the same comfy Oktoberfest feeling as every other tent. No music though.
Hühnerbraterei Wildmoser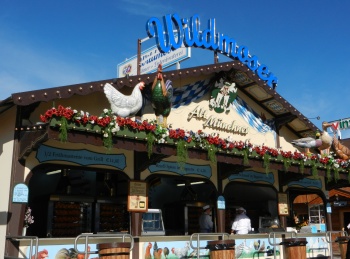 Wildmoser is a Munich celebrity. The senior partner "Old Wildmoser" died in 2010, but the family still owns the Hühnerbraterei at the Wiesn.
You can buy the obligatory chicken outside or you can sit in the tent with about 320 seats. Beer is Hacker-Pschorr, and you even find a few meals for kids on the menu. The "Alpen-Casanovas" provide party music starting at 4.30 p.m..
Metzger Stubn - Vinzenz Murr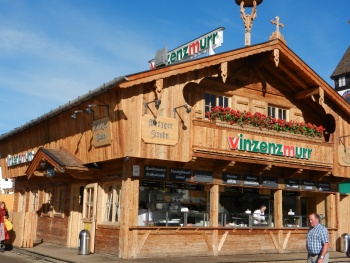 The Metzger Stubn (butcher's room) by the local Vinzenz Murr butchery was added to the Wiesn in 2010.
The tent seats 130 and features all the goodies you would normally buy at the butcher's shop, including the Bavarian specialty Leberkäs.
They claim to be the only place where you can buy an authentic Leberkäs-Semmel (meat loaf sandwich). In the evening there's a Bavarian band with live music.
Zum Stiftl
This tent looks more like a ski hut and gives you an aprés ski feeling.
It has 365 seats and about 100 more can stand at the bistro tables in the outside area.
The solo entertainer Hans Wallner takes care of fun and entertainment in the afternoon, while after 5 p.m. a live band plays party music.
Able's Kalbs Kuchl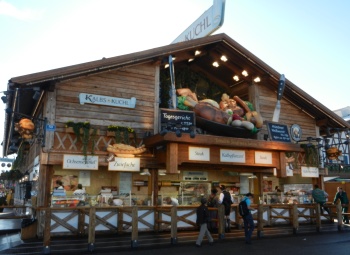 The Kalbs Kuchl (veal's kitchen) offers everything made of veal. If you want an authentic Wiener Schnitzel, this is the place to go.
It is one of the newest Oktoberfest tents, first appearing in 2008, but it already has a place in the heart of Munich locals.
Great food and a place that is especially kid friendly make it a good alternative to the big tents. In the afternoon a band plays Bavarian folk music and in the evening after 6:30 p.m. you hear the typical Wiesn songs. The beer served is Spaten and Franziskaner Weissbier (wheat beer).
Schiebls Kaffeehaferl
With 100 seats this is one of the smallest tents, but an important one. After a long day at the Wiesn you might need a cup of coffee to freshen up. What better than to sit down here, drink a great cup of coffee and eat one of the ever-tempting German desserts?
They offer all the famous goodies like apple strudel or Dampfnudel (sweet yeast dumpling). Between 10 a.m. and 12 a.m. you can come here for breakfast before entering one of the big beer tents.
More small Oktoberfest tents
Return to Oktoberfest Main Page